PACPANEL – HORSE & STOCK YARD PANELS
PacPanel is the ultimate lightweight, demountable & portable yarding panel.
Australian-made, nationally-approved yard panels.
Each panel is:
lightweight (only 9kg for the 3-rail panel)
durable (made from 100% Australian galvanized steel)
compact (saving you space on your float or truck), and
affordable ($135 – $165 ea).
The PacPanel 4-rail panel has been approved by NCCA for stallion control.
There is no better portable and reconfigurable fence system for animal enclosures, barricades or temporary fencing.
Australia wide shipping from only $15 per panel.
Order your panels today. Phone 0407 001 267 for more information or submit an order here.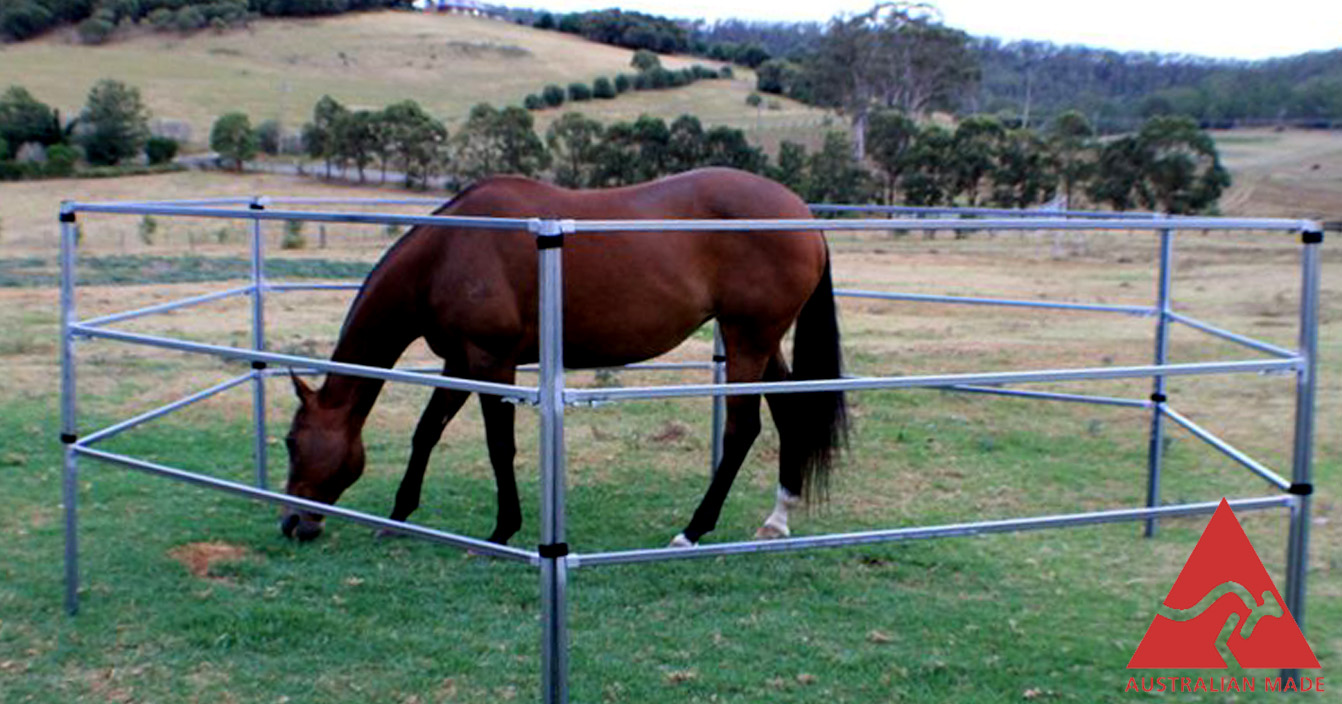 Why Choose PacPanel?
Choose from 3-rail and 4-rail panels. 

3 rail panel 1700 or 2200 wide and 1400 high

4 rail panel 1700 or 2200 wide and 1500 high

Weighs only 9kg for one 3-rail panel

Compacts for easy storage

Made from strong and durable 100% galvanized steel

Easy to assemble

4 rail meets NCCA requirements for Stallion Control

Affordable – prices start at $148.50 (GST inc)

Made in the Hunter Valley, NSW

Australia-wide shipping

Best solution for temporary horse and stock yarding
What our Customers Say
Thank you to PacPanel for sponsoring the NCCA rider event at the Landmark Classic this year. The GCA was lucky to win the panels. We picked our panels up at the ASHS National Show and used them for a client's stallion. Very easy to put up and take down, and saved us a heap of room in the truck.
Thank you Neil Green of PacPanel. They are a small easy to pack bundle, that is easily put together to make a panel. Quick and easy to make a safe yard for your horse.
Superb product guys, just home from Canberra Royal where we used the 8 panels to hold 2 horses for 3 days & nights – can honestly say they were so easy to construct by us girls & held our two youngsters in without a hiccup – so easy to disassemble too – such a great product as I have an aluminum gooseneck & can't have steel yards attached to the sides – well done Pac Panel, would highly recommend to anybody
Great, simple to use …. and easy to handle on your own – great job.